WELCOME !!!

Smitty, A Sucker For The Breed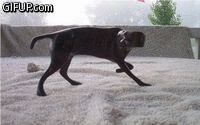 HONOR Smitty In The National Bird Dog Museum
VERY SPECIAL ARTIFACTS RAFFLE !!!!!
CHECK OUT @ Same Link!!!
HONOR Hilda Boggs in the National Bird Dog Museum
VERY SPECIAL ARTIFACTS RAFFLE !!!!!
SARI (pronounced Shara)
Some spent lifetimes seaching for magyar gold;
You crossed the blue ocean to escape darkly shrouded evil.....
And now that we have known you, we realize;
You Sari, are forever where our hearts should lay.
Even today, your spirit still burns with amber bright lights;
Our magyar chorus rising to heaven from your blessed song.
We've never forgotten your sweet face or brave heart;
Living full days of glory & treasure upon golden pond.
We sing of great friends, aristocratic hunters & magnificent times;
Bragging not with fools' gold, but improving every day with tried & true song.
From hearts' sunrise to hearth sunsets, oh Sari;
You're as good as it gets, never let us throw 14K gold away.....
For at least another thousand years !!!!!
Mz Sari
Words, regardless of language often plays havoc when it comes to truly understanding the past for this magyar national breed, whether it be a misspelling, mistake or mistranslation.
But... there is rarely any confusion when it comes to understanding & appreciating the timeless beauty that this aristocratic hunter portrays with every breath they take, with every heart that beats, with every soul that is conquered; regardless of country or century.
We thank the Frank & Jane Tallman family for everything, especially their circumspect judgment for providing ethics & health as a sound basis to this wonderful hunting breed.. They would be proud of what has been accomplished for the USA Vizsla in their chosen registry (AKC).
Gilded words do them nor Sari little justice,
So pardon us, as we sing out loud, proud & long on feathered pages that
lilt away in forever remembered song.
Vizsla Vizsmithsonian is named after
Chauncey Merrill Smith, Jr...(Smitty)
And is dedicated to the Tallman family & Mz Sari.
"We can never know enough of our past. It IS our future.
The more all magyar change?, the more all magyar stays the same !"
Prepare To Become Magyarized.....dlb
BE SURE !!!
to visit the other SITmUP
(Stuck In The mud Underground Publishing) websites.
thevizslaksentinel.com vizslavizipedia.com
This website is currently under construction and not expected to be fully available until Presidents 2010 Day. Then we take a brief hiatus to attend the VCA National Gun Dog Championship in Newington, Georgia February 24-28.
vizslavizipedia.com & thevizslaksentinel.com are available, however appropriate files are being moved from thevizslaksentinel.com to vizslavizipedia.com & vizslavizsmithsonian, certain previously published articles may temporarily be unavailable.